Lemon Cheesecake
Serves 8-10
Crust: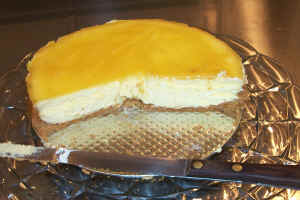 1 1/4 cup graham cracker crumbs
4 Tbs. ground walnuts
1/2 cup butter, melted
2 Tbs. sugar
1 tsp. ground lemon peel

Filling:
1 1/2 pounds cream cheese, softened
1 cup sugar
1 tsp. vanilla
3 tsp. lemon juice
1 tsp. ground lemon peel
4 eggs

Glaze:
2 eggs
3/4 Cup sugar
1 tsp. grated orange rind
1 tsp. grated lemon rind
1/4 Cup lemon juice
2 Tbs. orange juice
2 Tbs. butter

Preheat oven to 350 degrees F.

Combine crumbs, nuts, sugar and lemon peel. Stir in butter until thoroughly blended. Press mixture firmly against bottom of 9" spring-form pan. Bake at 350 degrees F for 10 minutes.

In a large bowl beat cream cheese until creamy. At medium speed add sugar gradually, then vanilla, lemon juice, and lemon peel. Blend well.

Add eggs, one at a time and beat at medium speed for ten minutes, until fluffy. Pour into spring-form pan.

Bake at 250°F. for 35 minutes. Turn off heat and cool for 30 minutes in the oven with the door open.

Glaze:
While cheesecake is baking, whisk eggs in a small saucepan until foamy.
Combine with sugar, rind, juices & butter in saucepan. Cook over low heat, stirring constantly until smooth & thickened. Cool.

Just before serving, spread evenly over cheesecake.