Potato Boats
Serves 8-10
8 large potatoes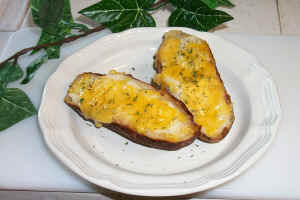 1/3 cup margarine or butter
1/2 cup milk
1/2 cup sour cream
1 tsp. salt
1/4 tsp. pepper
2 Tbs. melted butter
1/3 cup chives, diced
cheddar cheese, for topping

Preheat oven to 400 degrees F.

Scrub potatoes. rub with a little vegetable oil to make skins softer. Pierce skin with fork to allow steam to escape. bake at 400 degrees F until tender for about 50-60 min. Cool potatoes for 10 min.

Cut potato in half and carefully scoop out pulp, leaving shells intact.

In a large bowl, mash potatoes using a potato masher to remove lumps.

Heat margarine and milk until margarine melts and beat into potatoes. beat in sour cream, salt and pepper. Spoon into potato shells and brush with melted butter.

Top each potato with cheddar cheese and chives. Place in oven until cheese melts on top.

Featured Recipes:
Chocolate - the food of the Gods
Step-by-step cake decorating
Featured Magazine:
Dessert Professional