German Beerocks
makes 8
Ingredients: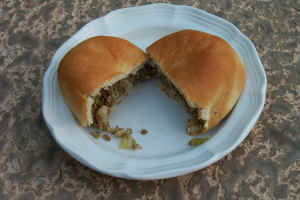 1 large head cabbage, shredded
2 Yellow onions, chopped
2 cloves garlic, chopped
3-4 lb. seven bone roast (beef)
4 Tbs.. canola oil
2 Tbs. ground black pepper
salt to taste

Dough:
3/4 cup water, warm (105° to 115° F)
1 package active yeast dry
2 Tbs. sugar
3/4 tsp. salt
1 cup potato mashed
2 eggs
1/3 cup vegetable oil
3 cups unbleached flour
1 1/2 Tbs. water

Directions:
In a large skillet, salt and pepper the roast on both sides. Brown off roast on both sides. Add water to cover and cook roast on stove top or a 350 degree oven until roast is well cooked. Set aside and cool. When cool, shred the beef and remove all fat. In another large skillet, saute the onions and garlic until onion is almost golden brown. Add the shredded cabbage and cook until limp. Add salt, pepper and shredded beef to the cabbage mixture and let stand until cool.
ASSEMBLY:

Dough and assembly directions:
Combine water, yeast, and sugar; let stand 5 minutes or until bubbly.
Add salt, potatoes, 1 egg, and oil; beat until well mixed. Add 1 1/2 cups flour and beat for 2 minutes. Stir in remaining flour, 1/2 cup at a time, until a stiff dough forms.

Turn out onto a well-floured surface and knead until smooth and elastic. Let dough rest 15 minutes. Roll out half of the dough
into an 18-inch square and cut into quarters.

Fill each square with about 1/2 cup meat mixture. Mix remaining egg and 1 1/2 tablespoons water together; brush glaze on edges of square.

Fold dough over filling to form a rectangle ball shape and pinch in the middle to seal. Repeat to make 8 beerocks.

Place on greased cookie sheet. Cover and let rise for 20 to 25 minutes.
Brush tops with remaining egg glaze and bake in preheated 375° F oven for 15 to 20 minutes or until golden brown. Serve hot or cold.