Pecan Pie
Serves 6-8

Flaky Pie Crust Dough: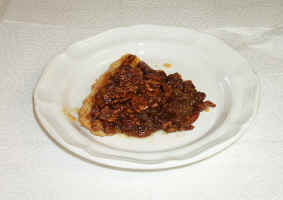 2 cups flour
1 1/2 Tbs. sugar
1/2 tsp. salt
1/2 cup and 2 Tbs. butter
1 large egg
2 Tbs. ice water

3 eggs
1 Cup Sugar
1/2 tsp. salt
2 Tbs. butter, melted
1/2 Cup dark Corn Syrup
1/2 Cup Whipping Cream
1 tsp. Vanilla
1/4 Cup Brandy
1 Cup Pecan halves

Pie Crust Directions:

Mix together the flour, sugar, and salt in a large bowl. Cut the butter into small pieces and begin working it into the flour with a pastry cutter. Work with the dough until each piece of butter is the size of a raisin. Make sure to do this quickly.

Mix together the egg and water in a small bowl, then add that to the flour/butter mixture. Smear this mixture and knead through it with the heal of your hand until it barely holds together. Don't over-work the dough. Flatten the dough into a disc shape, wrap it in plastic, and chill in refrigerator for at least 30 minutes.

Roll out the dough for the pie shell and place in a 9-inch pie pan shaping the dough to the pan.

Pecan Pie directions:

Pre-Heat oven to 375.

In small mixer bowl beat eggs, sugar, salt, butter, syrup and cream. Stir in vanilla, brandy, and pecans.

Pour into pastry-lined pie pan.

Bake for 40 to 50 minutes at 375 degrees F or until filling is set and pastry is nicely browned.

Let Cool and top with whipped cream.

Featured Recipes:
Chocolate - the food of the Gods
Step-by-step cake decorating
Featured Magazine:
Dessert Professional