Maple Scones
Makes 12

3 Cups Flour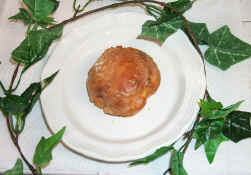 1 Cup Pecans, chopped
1 1/2 Tbs. Baking powder
3/4 tsp. Salt
3/4 Cup butter, unsalted
2/3 Cup Maple syrup plus a little-extra for brushing
1/3 Cup Heavy cream

Pre-Heat oven to 350 degrees F.

Grease and flour a 9-x-13 baking sheet.

In a large bowl stir together the flour, pecans, baking powder, and salt. Cut in the butter until the mixture resembles coarse meal. Set aside.

In another bowl, whisk together the maple syrup and cream. Make a well in the center of the dry ingredients and pour in the liquid mixture, combining with swift strokes until the dough clings together.

Roll scones into 12 balls and place on baking sheet about two inches apart. Brush tops with additional maple syrup, and bake for fifteen to twenty minutes or until lightly browned. Transfer to a rack and cool.
Featured Recipes:
Chocolate - the food of the Gods
Step-by-step cake decorating
Featured Magazine:
Dessert Professional