Caramel Muffins
makes 18

2 Cups Flour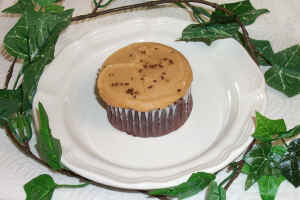 pinch Salt
1 Tbs. Baking powder
1/2 Cup Brown sugar
1/2 Cup Pecans, chopped
2 Eggs
2/3 Cup Milk
1 tsp. Vanilla extract
1/3 Cup Butter, melted
3 1/2 oz. Semi-sweet baking chocolate, melted
1/2 Cup Vanilla chips

Caramel Glaze:
3 Tbs. butter
3 Tbs. brown sugar
3 Tbs. sugar
3 Tbs. heavy (whipping) cream
1/2 tsp. vanilla extract

Muffin directions
Heat oven to 400 degrees. Grease muffin pan or line with paper liners.

Sift flour, salt, and baking powder into a bowl. Add brown sugar and pecans.

In another bowl, combine eggs, milk, vanilla, butter, and melted chocolate.

Stir dry mixture into wet mixture. DO NOT OVER MIX. Lightly stir in vanilla chips.

Pour evenly into 14-18 muffin cups.

Bake for about 20 minutes on 400 degrees F.

Glaze directions:
Place butter, sugars and cream in a medium sized saucepan over medium heat.

Bring the mixture to a rolling boil, stirring. Let boil for 1 minute
longer, stirring. Remove from the heat and add the extract. Spoon or
spread the warm glaze over your cooled muffins.

Featured Recipes:
Chocolate - the food of the Gods
Step-by-step cake decorating
Featured Magazine:
Dessert Professional