Baja California Chicken
8 chicken breasts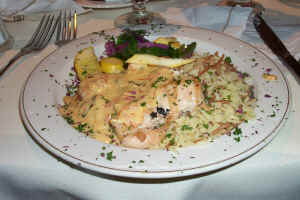 salt and pepper, to taste
4 Tbs. tarragon vinegar
4 Tbs. olive oil
2 cloves garlic, minced
2/3 Cup dry sherry

Sauce:
6 Tbs. butter
6 Tbs. flour
2-1/2 cups light cream
2 tsp. dry mustard
2 cups grated sharp cheddar cheese
1 Tbs. sherry
salt and pepper

Preheat oven to 350 degrees.

Put the oil and vinegar into a skillet and place minced garlic into the mixture.

While the pan is heating up, sprinkle the salt and pepper onto the chicken.

Saute' the chicken breasts until they are golden brown.

Place chicken into a baking pan and pour sherry over chicken.

Place pan in the oven for 10 minutes.

Sauce:
Meanwhile, Combine flour and butter in heavy pan over heat.

Cook for 2 minutes.

Heat, but do not boil, cream.

Gradually stir cream into flour and butter. Stir in mustard, cheese, sherry, salt, and pepper.

Top chicken with sauce and serve.
Featured Recipes:
Chocolate - the food of the Gods
Step-by-step cake decorating
Featured Magazine:
Dessert Professional