Vegetable Lasagna Casserole
Serves 16-20
2 16-ounce packages of lasagna noodles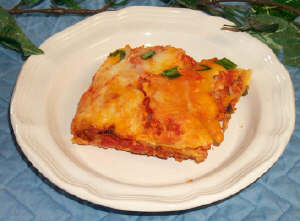 2 onions, chopped
2 green peppers, chopped
4 cups broccoli, chopped
4 cups cauliflower, chopped
2 16-ounce cartons low-fat cottage cheese
4 cups grated mozzarella cheese
2 16-ounce cans tomato sauce
1 23-ounce can tomato juice
2 Tbs. cooking oil
1 clove garlic, minced
basil, oregano, rosemary or Italian spice mix

Spread 2 tablespoons of oil in the bottom of two 9x13-inch pans.

Layer one package uncooked noodles on bottom of pan, overlapping 1/2 inch. Top noodles with half of the chopped onions, peppers, broccoli and cauliflower.

Cover vegetables with 1 carton of the cottage cheese. Top cottage cheese with half the mozzarella cheese. Pour 1 can of tomato sauce over mozzarella.

Lightly sprinkle with minced garlic and seasonings.

Repeat layers, beginning with noodles.

Pour tomato juice over completed layers, filling the pans no more than 1/2 inch from the top to prevent boiling over.

Bake 50 to 60 minutes at 350 degrees. Cool 10 minutes.

Serve with Parmesan cheese, if desired.

Featured Recipes:
Chocolate - the food of the Gods
Step-by-step cake decorating
Featured Magazine:
Dessert Professional