German Chocolate bars
1 Pkg. German Chocolate Cake Mix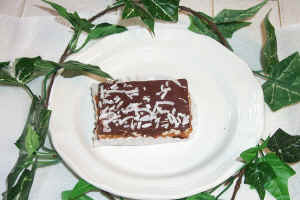 3/4 Cup Butter or margarine, softened
1 Cup Pecans, coarsely chopped
2/3 Cup Evaporated milk, divided
1 Pkg. (14 oz.) caramels, unwrapped
1 Pkg. (16 oz.) Chocolate chips
1/4 cup coconut, shredded

Grease and flour a 9 x 13" pan.

Combine cake mix, butter, nuts and 1/3 cup evaporated milk.

Press half of mixture into pan and bake at 350° for 8 to 10 minutes.

Melt caramels with remaining 1/3 cup evaporated milk over low heat. When melted, spread over baked cake mixture.

Put chocolate chips on top of caramels and then the remaining cake mixture over the chocolate chips and spread lightly.

Bake for 20 minutes at 350°. Sprinkle coconut over the top of the bars. When cool, cut into bars.

Featured Recipes:
Chocolate - the food of the Gods
Step-by-step cake decorating
Featured Magazine:
Dessert Professional