Fresh Vegetable Focaccia
2 1/2 tsp. active dry yeast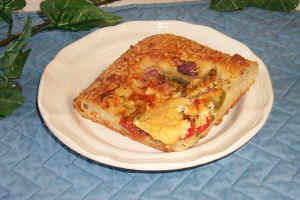 1/2 tsp. sugar
1 cup lukewarm water
3 1/2 cups semolina flour
1 tsp. table salt
a 4 oz. jar sun-dried tomatoes packed in oil, drained, reserving 1/4 cup of the oil, and the tomatoes chopped
4 garlic cloves
1/4 cup olive oil
3 large red bell peppers, sliced thin
1 tsp. coarse salt
pepper, to taste

In the bowl of an electric mixer fitted with the paddle attachment proof the yeast with the sugar in the water for 5 minutes, or until the mixture is foamy.

Add the flour, table salt, and the sun-dried tomatoes with 1 tablespoon of the reserved tomato oil. Combine the dough mixture well.

With the dough hook knead the dough for 2 minutes, or until it is soft and slightly sticky. Form the dough into a ball, transfer it to an oiled bowl, and turn it to coat it with the oil.

Let the dough rise, covered with plastic wrap in a warm place for 1 1/2 hours, or until it is double in bulk. The dough may be made up to this point, punched down, and kept, covered and chilled, overnight. Let the dough return to room temperature before proceeding.

Press the dough evenly into an oiled jell-roll pan, 15 1/2 by 10 1/2 by 1 inch, let it rise, covered, in a warm place for 1 hour, or until it is almost double in bulk.

While the dough is rising, use a saucepan to cook the garlic in the olive oil over low heat for 20 minutes. Using a slotted spoon transfer the garlic to a cutting surface, discarding the oil, and chop it fine.

In a bowl stir together the garlic, the bell peppers and the remaining 3 tablespoons reserved tomato oil. Add pepper to taste.

sprinkle the mixture evenly over the dough. Sprinkle it with the coarse salt.

Bake the focaccia near the bottom of a preheated 400 degree F. oven for 30 to 35 minutes, or until it is golden brown. Let it cool in the pan. Serve the focaccia warm or at room temperature.