Key Lime Pie
Makes one 8-or 9-inch pie
3 eggs, separated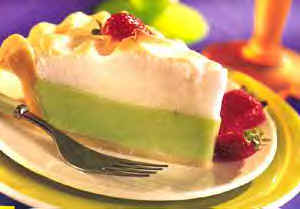 1 (14-oz.) can Eagle® Brand Sweetened Condensed Milk (NOT evaporated milk)
1/2 cup ReaLime® Lime Juice from Concentrate
2 or 3 drops drops green food coloring, optional
1 (9-inch) unbaked pie crust
1/2 teaspoon cream of tartar
1/3 cup sugar

Preheat oven to 325. With mixer, beat egg yolks in medium-sized bowl; gradually beat in Eagle Brand, ReaLime. Stir in food coloring if desired. Pour into pie crust.

Bake 30 minutes. Remove from oven. Increase oven temperature to 350.

Meanwhile, for Meringue, with clean mixer, beat egg whites with cream of tartar to soft peaks. Gradually beat in sugar, 1 tablespoon at a time; beat 4 minutes longer or until stiff, glossy peaks form and sugar is dissolved.

Immediately spread meringue over hot pie, carefully sealing to edge of crust to prevent meringue from shrinking. Bake 15 minutes. Cool 1 hour. Chill at least 3 hours. Store leftovers covered in refrigerator.

Featured Recipes:
Chocolate - the food of the Gods
Step-by-step cake decorating
Featured Magazine:
Dessert Professional