Ooey Gooey Cinnamon Rolls

2 packages active dry yeast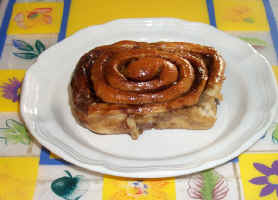 1 cup warm water
2/3 cup plus 1 tsp. granulated sugar
1 cup warmed milk
2/3 cup butter
2 tsp. salt
2 eggs, slightly beaten
7 cups flour

Filling:
1 cup melted butter
1 3/4 cups granulated sugar
3 tablespoons ground cinnamon
1 1/2 cups chopped walnuts, optional
1 1/2 cups raisins, optional

In a cup, combine yeast, warm water and 1 tsp. sugar, stir and set aside. In a large bowl, mix milk, remaining 2/3 cup sugar, melted butter, salt and eggs; stir well and add yeast mixture. Add half the flour and beat until smooth.

Stir in enough of the remaining flour until dough is slightly stiff (dough will be sticky). Turn out onto a well-floured board; knead 5-10 minutes. Place in glass or plastic bowl and cover. Let rise in warm place until doubled in bulk, about 1 to 1 1/2 hours.

When doubled, punch down dough and let rest 5 minutes. Roll out on floured surface into a 15 x 20 inch rectangle.

To prepare filling:
Spread dough with 1/2 cup melted butter. Mix together 1 1/2 cups sugar and cinnamon; sprinkle over buttered dough. Sprinkle with walnuts and raisins, if using.

Roll up and pinch edge together to seal. Cut into 12 slices.

Coat bottom of a 13-by-9-inch baking pan and an 8-inch square pan with remaining 1/2 cup melted butter, then sprinkle with remaining 1/4 cup sugar.

Place cinnamon roll slices close together in pans. Let rise in warm place until dough is doubled in bulk, about 45 minutes.

Topping:
1 cup butter or margarine
1/2 cup brown sugar
1/2 cup Karo syrup
2 cups pecans chopped (optional)

In a saucepan place all ingredients except for the pecans. Melt these ingredients on range top. Mix in pecans then pour over top of rolls.

Preheat oven to 350 degrees. bake for approximately 25 minutes or until done. Let cool.