Campbell's® Lemon Asparagus Chicken
Serves 4
Prep/Cook Time: 20 minutes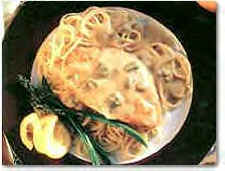 1 Tbs. vegetable oil
4 boneless chicken breast halves
1 can Campbell's® Cream of Asparagus Soup
1/4 cup milk
1 tbsp. lemon juice
1/8 tsp. pepper

HEAT oil in skillet. Add chicken and cook until browned.
ADD soup, milk, lemon juice and pepper. Heat to a boil. Cover and cook over low heat 5 min. or until done. Garnish with lemon slices if desired. Serves 4.
Featured Recipes:
Chocolate - the food of the Gods
Step-by-step cake decorating
Featured Magazine:
Dessert Professional