Consomme Soup

1 lb. carrots, cut into pieces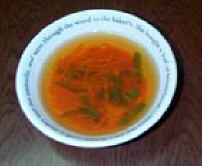 1 small white onion, unpeeled
1 whole cloves
1 celery stick, cut into pieces
1 bay leaf
3 black peppercorns
1 sprigs of thyme, fresh
1 green bell pepper, sliced
2 quarts water

Bring all ingredients to a simmer over medium-high heat, then reduce to a slow simmer for 3 hours.

Let cool 1 hour, then strain carefully through colander.

Discard vegetables and reserve broth, or for thicker soup puree some of the strained vegetables with the broth. Or for a vegetable soup leave the vegetables in.

Season with salt and pepper.
Featured Recipes:
Chocolate - the food of the Gods
Step-by-step cake decorating
Featured Magazine:
Dessert Professional