Fresh Peach Pie
9 inch Pie
Crust: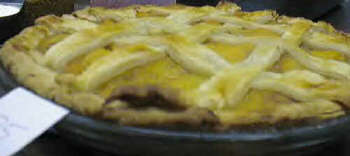 1/4 cup Sesame Seed
2 cups flour
1/2 tsp. salt
2/3 cup vegetable shortening
1/4 cup cold water

Filling:
3/4 cup brown sugar
3 Tbs. quick cooking tapioca
3/4 tsp. Ground Ginger
1/2 tsp. Lemon Peel
4 cups peaches, peeled and sliced
2 Tbs. butter or margarine
1/4 tsp. Pure Almond Extract

Preheat oven to 350 F.

Place sesame seed in shallow baking pan and toast in preheated 350 degree F oven for 15 minutes or until golden brown. Set aside to cool.

Sift flour and salt into medium size bowl. Measure 1/4 cup flour mixture and set aside in small bowl. Cut shortening into remaining flour mixture with pastry blender or 2 knives until particles are about size of peas.
Add cold water to 1/4 cup reserved flour mixture and stir to make smooth paste. Sprinkle paste over flour/shortening mixture. Add toasted sesame seed and blend quickly until dough is moist and can be shaped into 2 equal-size balls.

Set 1 ball of dough aside and roll out other ball on lightly floured surface to 1/8-inch thickness. Line 9-inch pie plate.
Roll out remaining ball of dough on floured surface to 1/8-inch thickness and cut into 3/4-inch strips. Set strips aside to use for lattice top.

Increase oven temperature to 425 F.

To make filling, place sugar, tapioca, ginger, and lemon peel in small bowl and mix well. Sprinkle half of mixture over bottom of pie shell.

Arrange peach slices over sugar-spice mixture and sprinkle remaining sugar mixture over peaches. Dot with butter and drizzle almond extract over all. Use pastry strips to form lattice top over fruit. Press ends of strips to bottom crust to seal.

Bake in preheated 425 F oven 10 minutes. Reduce oven temperature to 350 F and bake 30 minutes.
Featured Recipes:
Chocolate - the food of the Gods
Step-by-step cake decorating
Featured Magazine:
Dessert Professional