Fruit and Nut Bars
10 bars
A great take-along snack with the goodness of grains and fruit.

Ingredients: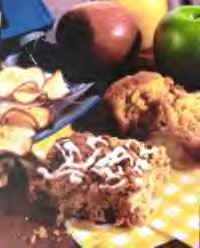 1 cup un-sifted all-purpose flour
1 cup quick oats
2/3 cup brown sugar
2 teaspoons baking soda
1/2 teaspoon salt
1/2 teaspoon cinnamon
2/3 cup buttermilk
3 Tablespoons vegetable oil
2 Lg. egg whites, lightly beaten
1 Golden Delicious apple, cored and chopped
1/2 cup dried cranberries or raisins, chopped
1/4 cup chopped nuts
2 tablespoons flaked coconut (optional)

Pre-heat oven to 375 degrees F.
Lightly grease a 9-inch square baking pan.
In a large mixing bowl, combine flour, oats, brown sugar, baking soda, salt and cinnamon: stir to blend. Add buttermilk, oil and egg whites and beat with electric mixer just until mixed. Stir in apple, dried fruit and nuts; spread evenly in pan and top with coconut if desired.
Bake 20-25 minutes or until cake tester inserted in center comes out clean.
Cool and cut into 10 bars.

Per bar with coconut: Protein 4g.; Fat 7g.; Carbohydrates 39g.; Sodium 298mg.; Cholesterol .6mg.; Calories 232.

Copyright © 2001 Washington Apple Commission. All rights reserved.
Featured Recipes:
Chocolate - the food of the Gods
Step-by-step cake decorating
Featured Magazine:
Dessert Professional