Chocolate Chunk Cookies
24 cookies
2 1/4 cup flour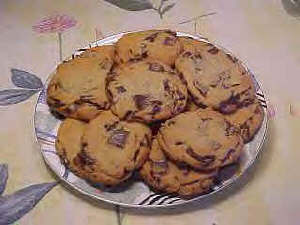 1 tsp. baking soda
1 tsp. salt
1 cup (2 sticks) unsalted butter or margarine, at room temperature
2/3 cup smooth peanut butter
1 cup granulated sugar
1 cup packed brown sugar
2 eggs
2 tsp. vanilla
1 bag (12 ounces) semisweet chocolate chunks (mini Hershey's kisses work well)
1 1/4 cup pecans, coarsely chopped

Heat oven to 325 degrees.

Combine flour, baking soda and salt in a large bowl. Beat together the butter, peanut butter, granulated sugar and brown sugar in a large bowl until light and fluffy, about 3 minutes. Beat in the eggs and vanilla until blended. Stir in flour mixture until well blended and dough forms. Stir in the chocolate chunks and chopped pecans.

Using a 1/4 cup measure, drop dough by slightly rounded mounds onto large un-greased baking sheet, spacing the cookies about 2 inches apart.
Bake at 325 degrees 15 to 17 minutes, until golden brown around the edges and lightly colored on top.

Remove from baking sheets to a wire rack to cool for about 3 minutes. Remove the cookies with a metal spatula from the baking sheet to a wire rack to cool completely.
Featured Recipes:
Chocolate - the food of the Gods
Step-by-step cake decorating
Featured Magazine:
Dessert Professional