Brioche
makes about 8 or 9 brioche
1/2 cup scalded milk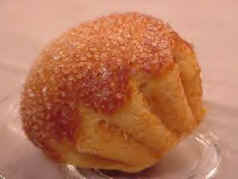 1/2 cup butter
1/3 cup sugar
1 tsp. salt
1 package dry yeast
1/4 cup warm water
1 egg yolk
3 eggs, beaten
3 1/4 cups sifted flour

2 eggs, beaten (brushing tops)
Coarse (Decor) Sugar

In a large bowl cream butter. Add sugar and salt and mix together. Soften yeast in warm water. Blend the milk, butter mixture, and yeast. Add egg yolk, eggs, and flour. Beat with a wooden spoon for two minutes.

Cover and let rise in warm place until more than doubled, about two hours. Stir down and beat thoroughly. Cover tightly with aluminum foil and refrigerate until dough is firm (about an hour).

Grease the brioche tins with a brush and a small amount of margarine or non-stick spray. Scale the pate brioche into size 2 ounce pieces and round them up into smooth balls on a floured surface Using a pastry brush brush the tops of the dough balls with egg. Pick them up from the bottom with your fingers and dip the tops fully in a dish of decorative sugar. Place directly into the greased tins, with the sugar side up.

Bake in a hot oven 425 degrees (F) until golden brown, reduce the heat to 375 F. toward the end of the bake.

Remove from tins as soon as possible to prevent moisture build-up inside the tin.