Grilled Salmon
Serves 4
12 oz. salmon fillet, cut into 4 portions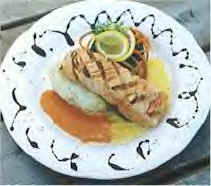 2 Tbsp. chopped green onion
2 Tbsp. chopped fresh basil
2 Tbsp. chopped fresh oregano
1 tsp. chopped lemon zest
1/3 cup olive oil
Kosher salt
Fresh ground pepper

Combine the onion, basil, oregano and lemon zest in a large bowl. Whisk in the olive oil, using a fork. Add the salmon and toss to coat. Let sit 5 to 10 minutes.

Preheat the grill to medium-high heat. Sprinkle both sides of the salmon with salt and pepper. Place the salmon on the grill skin-side down and cook 10 minutes. Turn and cook the other side 5 minutes.

Featured Recipes:
Chocolate - the food of the Gods
Step-by-step cake decorating
Featured Magazine:
Dessert Professional