Chickpea Stew

5 cups chickpeas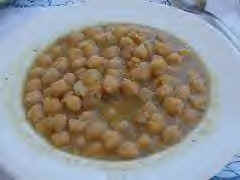 2 large onions chopped
2 tsp baking soda
1 cup of olive oil
1 lemon
salt and pepper

In a large bowl cover chickpeas with water and let stand overnight.

Drain and sprinkle chickpeas with baking soda and let stand for 20 minutes. Wash and scrub so that outer skin is removed

In a small pan Heat oil and saute onions. Add chickpeas, salt and pepper.

Cover with water simmer for 1-2 hours.

Serve with lemon.
Featured Recipes:
Chocolate - the food of the Gods
Step-by-step cake decorating
Featured Magazine:
Dessert Professional