Beef Wellington
Serves 6-8

3 lbs. filet mignon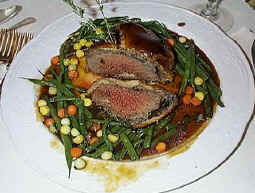 3 Cups Sifted flour
1 Tbs. Dried parsley
1 tsp. Celery salt
1 tsp. Salt
3/4 Cup Lard or shortening
3/4 Cup Cold water
1 Tbs. Butter or margarine
2 Cups Fresh mushrooms, sliced
1/4 Cup Onion, minced
1/4 Lb. Creamy liver pâté
1 medium Egg yolk

Pre heat oven to 350 °F

Place filets on a grid, in a dripping pan. Roast one hour (for rare to medium meat.)

Remove roast from oven. Leave to cool at least 60 minutes. (This can be done the night before, and roast placed in the refrigerator overnight.)

Mix flour, parsley, celery salt and salt. Cut shortening into this mixture with a pastry cutter. Add cold water, 1 tablespoon at a time, stirring with a fork. Shape into a ball.

Roll dough to form a rectangle large enough to cover roast.
Melt butter in a frying pan. Brown mushrooms and onion, about 15 minutes. Leave aside to cool.

Spread liver pâté on dough, leaving (2 inches) on the edges. Arrange mushroom mixture in center of dough.

Put roast on dough and wrap, sealing the edges.

Brush dough with beaten egg yolk. Put roast into a dripping pan, sealed side down, and bake for 1 1/2 hours at 375 °F.

Featured Recipes:
Chocolate - the food of the Gods
Step-by-step cake decorating
Featured Magazine:
Dessert Professional