Chicken and Dumplings
2 lbs Chicken breast or thighs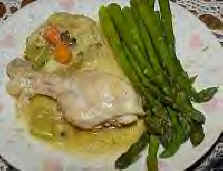 8 cups water
1 tsp. chicken bullion
1 Onion, diced
1 stalk celery, diced
1 carrot, diced
1/4 cup fresh mushrooms
1 tsp. olive oil
Pepper
Paprika
Thyme
Garlic Powder

Remove the skin from the chicken and rinse in cold water. Place the chicken in a deep pan and add 1 tablespoon olive oil... then fry on all sides. Add 8 cups water to the chicken and 1 tsp chicken bullion.

Cut up all vegetables and add to the chicken. Add the spices and Let simmer for 45 minutes.

Dumplings:

2 cups Flour
2/3 cup Chicken Broth from pan
1 Tbs. baking powder
1 egg

Mix all together in a bowl. The mix should be wet. Pick up by the spoon full and add to the chicken. Cook uncovered for 10 minutes. Cook covered for another 10 minutes. Serve together with the chicken.
Featured Recipes:
Chocolate - the food of the Gods
Step-by-step cake decorating
Featured Magazine:
Dessert Professional