Pan Roasted Chicken Breasts Stuffed with Smashed Almonds, Mascarpone and Lemon
Servings: 4
Ingredients: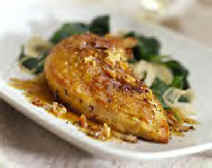 4 large boneless chicken breasts free range, skin on
1/2 cup of Roasted Almonds with Coriander, Chili and Olive Oil
6 large heaped tablespoons of mascarpone cheese
Zest and juice of 1 lemon
1/4 cup chicken stock
1/2 cup Chardonnay
Olive oil
Sea salt and ground black pepper
2 bulbs of fennel
1 lb fresh spinach
salt and pepper

Directions:

Blend in a food processor or in a pestle and mortar the roasted almonds until roughly smashed. Then add the tablespoons of mascarpone, lemon zest and juice. Blend and season.

Working from one side of the chicken breast slip your fingers in-between the skin and the flesh, being careful not to completely remove the skin. Push one good spoonful of the almond-mascarpone paste in the gap of each breast then press the skin firmly back, saving any left over paste.

Take a hot non stick pan, drizzle it with a little olive oil and place the breasts skin side down. After a minute when lightly golden turn to seal the other side. (If you don't have a pan with a metal handle transfer to a roasting tray at this point.) Place in the pre-heated oven 425ºF for around 10 minutes until cooked.

Meanwhile cut the fennel in half lengthwise, then into thin slices. Throw into a medium hot pan with a little olive oil and seasoning, stir in a couple of tablespoons of water. Cover and leave to cook slowly – about 5 to 10 minutes.

When the chicken is cooked remove to a warm plate and rest for 5 minutes, whilst you move the pan or tray back on the heat and add the glass of wine and stock, allow to cook down to almost nothing, not forgetting to scrape the pan bottom for all its goodness. Finish the sauce by stirring in the rest of the mascarpone and any remaining paste, keep on the heat so it continues to simmer until it coats the back of a spoon. Season to taste.

By this point the fennel should be just cooked season and chuck in the spinach, leave to wilt down . Serve the chicken with the fennel and spinach, drizzle the sauce over and around the chicken. Try with a nice glass of Chardonnay.

Copyright Almond Commission 2001. All Rights Reserved.

Featured Recipes:
Chocolate - the food of the Gods
Step-by-step cake decorating
Featured Magazine:
Dessert Professional