Roasted Sweet Garlic and Almond Soup
Serves 4
Ingredients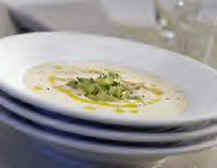 10 to 12 cloves garlic
2 heaped cups blanched almonds
5 oz. (4 to 5 slices) sourdough bread, crusts removed
1 cup low-fat milk
1 to 2 cups chicken stock or water
A drizzle of sherry vinegar
A drizzle of Tuscan extra virgin olive oil
Sea salt and freshly ground black pepper
A small bunch of green grapes, quartered
A few sprigs of fresh marjoram, chopped

Directions:

Preheat the oven to 400ºF. Bake the garlic cloves for about 20 minutes or until soft. Break the bread into smaller pieces drizzle and soak with the milk.

Using a food processor blend the almonds until good and fine and have almost stuck to the side of the bowl.

Throw in the soaked bread and the soft inside of the roasted garlic, add a little water and blend. When you have a fine puree add in gradually enough water to make a thickish soup consistency.

Finish by seasoning with the sherry vinegar, salt and pepper and a good drizzle of olive oil.

You can garnish with some quartered green grapes mixed with chopped marjoram on top.
Almond Board Copyright 2001
Featured Recipes:
Chocolate - the food of the Gods
Step-by-step cake decorating
Featured Magazine:
Dessert Professional