Orange French Toast
Serves 4
2 eggs beaten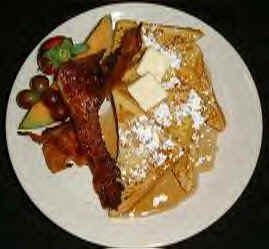 1 cup orange juice
8 slices bread - day old works best
1 1/2 cups crushed vanilla wafers or graham crackers
Margarine

Combine eggs and orange juice. Beat really well.

Dip bread into egg mixture, then into crumbs.

In a large frying pan melt butter. Pan fry on both sides until lightly browned. Serve with syrup or honey and top with powdered sugar and fresh fruit.


Featured Recipes:
Chocolate - the food of the Gods
Step-by-step cake decorating
Featured Magazine:
Dessert Professional