Chicken Nachos
2 1/2 cups shredded, cooked chicken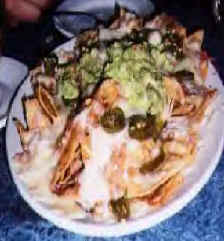 1 package spices and seasonings for Fajitas (Lawry's or Mccormick)
1/3 cup water
8 oz tortilla chips
1 1/4 cups grated cheddar cheese
1 cup grated Monterey jack cheese
1 large tomato, chopped
1 can sliced ripe olives, drained
1/4 cup sliced green onions
salsa
guacamole
sour cream

In medium skillet, combine chicken, spices and seasonings for fajitas and water, blend well.

Bring to a boil, reduce heat and simmer 3 minutes. In large shallow ovenproof platter, arrange the tortilla chips. Top with chicken and cheeses.

Place under broiler to melt cheese. top with tomato, olives, green onions, desired salsa. Serve with guacamole and sour cream.
MexGrocer: Authentic Mexican Food and more
Featured Recipes:
Chocolate - the food of the Gods
Step-by-step cake decorating
Featured Magazine:
Dessert Professional