Three Cheese Artichoke Dip
2 packages Cream Cheese cheese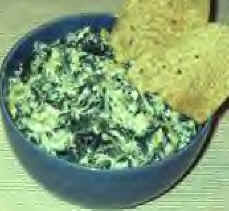 3/4 cup Parmesan cheese
1 cup mozzarella cheese, shredded
4 Tbs. mayonnaise
1/4 cup skim milk
3 packages frozen spinach, thawed and patted dry
14 ounces artichoke hearts - cut in 1" pieces

Preheat oven to 350 degrees F.

Place all cheeses, mayonnaise and milk in a microwave safe dish with lid.

Heat in microwave for one minute or until all ingredients are incorporated.

Mix the spinach and artichoke heart pieces into the cheese mixture. Bake 50 minutes covered with foil. Remove foil and then bake for 10 minutes longer.

Serve with bread, chips, vegetables or whatever else sounds good.
Featured Recipes:
Chocolate - the food of the Gods
Step-by-step cake decorating
Featured Magazine:
Dessert Professional