Sautéed Prawns
Serves 4
1 pound freshwater prawns in their shells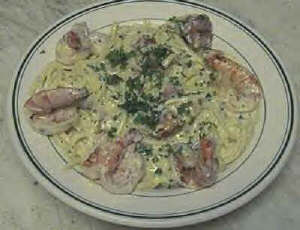 1/2 Cup freshly squeezed lemon juice
1 clove garlic, chopped
1/2 tsp. salt
1/2 tsp. freshly ground black pepper
1/2 tsp. dried rosemary, crumbled

Clean prawns.

Combine cleaned prawns with lemon juice, salt, pepper, garlic and rosemary in a bowl. Cover and marinate for about 1 hour in the refrigerator, stirring periodically.

Preheat a large nonstick over high heat. Transfer the contents of the bowl to the hot pan.
Cook the prawns for about 2 minutes on each side, until the shells turn bright pink and the meat is opaque.

Remove shells and toss with linguini pasta and cream sauce or serve by them self.
Over 500 varieties of fresh and frozen seafood. Fresh seafood delivered daily.
Featured Recipes:
Chocolate - the food of the Gods
Step-by-step cake decorating
Featured Magazine:
Dessert Professional