Sweet Potato Fries
3 medium sweet potatoes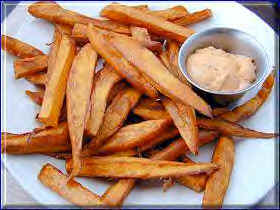 vegetable oil, for deep frying
1 tsp. salt
1/4 tsp. freshly ground black pepper

Preheat the oven to 200 degrees.

Using a large sharp knife, cut sweet potatoes into strips 3 inches long and 1/8-inch thick.

Pat dry with paper towels.

In a deep medium saucepan, heat the oil over high heat until a deep-fry thermometer reads 375 degrees.

In batches, deep-fry the sweet potato sticks until golden brown, 3 to 4 minutes. Using kitchen tongs, transfer the sweet potato sticks to a paper towel-lined baking sheet to drain.

Keep the sticks warm in the oven while frying the remaining sweet potatoes. Sprinkle with the salt and pepper, and serve warm, with your favorite dip.
Featured Recipes:
Chocolate - the food of the Gods
Step-by-step cake decorating
Featured Magazine:
Dessert Professional