Party Potato Skins
Serves 4
3 medium baking potatoes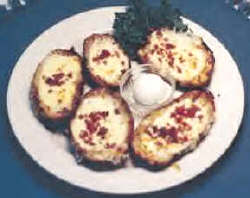 vegetable oil
seasoned salt
1 cup shredded cheddar cheese
6 slices bacon, cooked and crumbled
sour cream or ranch dressing (optional)

Preheat oven to 400 degrees F.

Scrub potatoes and brush outer skin with oil. Place on pan and bake for 1 hour.

Let potatoes cool.

Scoop out most of the inside of the potato leaving about 1/4 - 1/8 inch left shell.

Cut skins in half crosswise and deep fry in hot oil for 2 to 3 minutes or until lightly browned.

Drain on paper towels. Place skins on baking sheet.

Sprinkle with salt, cheese, and bacon. Place under broiler until cheese melts. Serve with sour cream or ranch dip.
Featured Recipes:
Chocolate - the food of the Gods
Step-by-step cake decorating
Featured Magazine:
Dessert Professional