Raspberry Scones
Ingredients: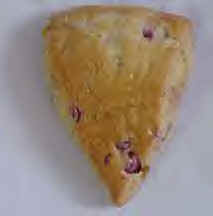 1 cup fresh or frozen raspberries
1-3/4 cups flour
3 tsp. baking powder
1/4 cup sugar
1/2 tsp. salt
1/3 cup solid shortening
2 large eggs whisked with 1/3 cup milk or cream
Coarse sugar mixed with 1 tsp. cinnamon for topping

Heat oven to 350 degrees. Sift together flour, baking powder, sugar, and salt in a large bowl. Cut in shortening until mix resembles coarse meal.

Stir in the raspberries, trying not to squish them. Lightly stir in egg mixture. Turn out the dough onto a floury board. Handling as little as possible, shape the dough into two rounds on a cookie sheet (each approximately 6 inches in diameter, 3/4 inch deep).

With a sharp knife, score each scone into 6 wedges. Brush with a little milk, then sprinkle with the sugar and cinnamon mix.

Bake 15 to 20 minutes until risen and brown. Test for doneness with a toothpick at 15 minutes.
Featured Recipes:
Chocolate - the food of the Gods
Step-by-step cake decorating
Featured Magazine:
Dessert Professional