Chicken Taquitos
24 Taquitos
2 cups cooked, shredded chicken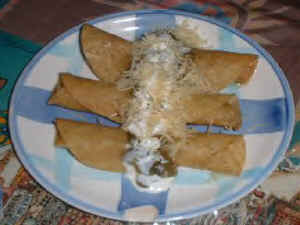 1 can (10 oz.) mild enchilada sauce
1 cup Shredded Cheese, Cheddar and Mozzarella
1/2 cup onion, minced
1 can (4 oz.) green chiles, diced
1 tsp. garlic salt
3/4 cup Vegetable Oil
24 corn tortillas
non-stick cooking spray

In a large bowl, combine first 6 ingredients; mix well. Set aside.

In a small skillet, heat oil. Using tongs, dip tortillas in oil about 5 seconds on each side; drain on paper towels. Keep warm.

Place 2 tablespoons chicken mixture onto each tortilla; roll tortillas.

Place seam side down on a cookie sheet sprayed with vegetable cooking spray. Bake at 400° F for 15 minutes or until desired crispness.

Top with sour cream and cheese.
Featured Recipes:
Chocolate - the food of the Gods
Step-by-step cake decorating
Featured Magazine:
Dessert Professional