Quick and Easy Pumpkin Pie
1 1/2 c. canned or cooked pumpkin or squash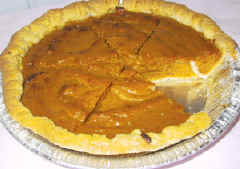 1 c. brown sugar, firmly packed
1/2 tsp. salt
2 tsp. cinnamon
1 tsp. ginger
2 T. molasses
3 eggs, slightly beaten
12 oz. can of evaporated milk
1 unbaked pie shell

Preheat oven to 425 degrees F.

In a large bowl combine pumpkin, sugar, salt, spices and molasses.

Add eggs and milk and mix thoroughly.

Pour into unbaked pie shell and bake at 425 degrees F for 40 to 45 minutes.

Let cool. Serve with Whip cream.
Featured Recipes:
Chocolate - the food of the Gods
Step-by-step cake decorating
Featured Magazine:
Dessert Professional