Ginger Snap Cookies
1 cup white sugar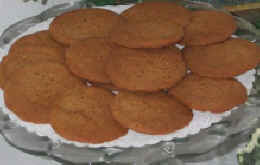 3/4 cup butter, shortening or margarine, softened
1/4 cup molasses
1 egg
2 cups flour
2 tsp baking soda
1/2 tsp salt
1/2 tsp cinnamon
1/2 tsp ginger
1/4 tsp cloves

In large bowl combine first 4 sugar, margarine, molasses and egg. Blend well. Stir in remaining ingredients and blend well.

Chill dough for easier handling. Lightly grease (not oil) cookie sheets.

Heat oven to 375 degrees F. Shape dough into 1 inch balls, roll balls in sugar.

Place 2 inches apart on prepared cookie sheet. Bake at 375 for 8 - 10 minutes or until edges are set. Cool 1 - 2 minutes before removing from cookie sheet.
Featured Recipes:
Chocolate - the food of the Gods
Step-by-step cake decorating
Featured Magazine:
Dessert Professional