Holiday Stollen - Christmas Stollen
Yield: 1 Stollen, 10 servings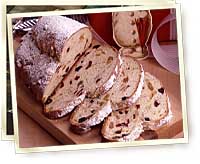 2 1/4 to 2 3/4 cups bread or all-purpose flour
1/4 cup sugar
1 package FLEISCHMANN'S RapidRise Yeast
1/2 teaspoon ground cardamom
1/2 teaspoon freshly grated lemon peel
1/2 teaspoon salt
1/4 teaspoon ground nutmeg
1/4 cup (1/2 stick) butter or margarine, cut up
1/4 cup water
2 tablespoons milk
2 eggs, divided use
1 teaspoon pure almond extract
1/2 cup slivered almonds, toasted
1/4 cup dried blueberries
1/4 cup dried cranberries or cherries
1/4 cup golden raisins or chopped dried candied pineapple
Powdered sugar
In large bowl, combine 1 cup flour, sugar, undissolved yeast, cardamom, lemon peel, salt and nutmeg. Heat butter, water and milk until very warm (120 to 130oF); stir into dry ingredients. Stir in 1 egg, 1 egg yolk (reserve 1 egg white), almond extract and enough remaining flour to make soft dough. Knead on lightly floured surface until smooth and elastic, about 6 to 8 minutes. Cover; let rest 10 minutes. Knead in almonds and fruits (dough may be slightly sticky).

Roll to 12 x 8-inch oval.


Fold dough in half lengthwise, slightly off center, so top layer is set back 1/2 inch from bottom edge; pinch to seal. Place on greased baking sheet. Cover; let rise in warm, draft-free place until doubled in size, about 30 to 60 minutes.
Lightly beat reserved egg white; brush on dough. Bake at 350 F for 30 to 35 minutes or until done, covering with foil after 20 minutes to prevent excess browning. Remove from pan; cool on wire rack. Sift powdered sugar over top.
Nutrition Information Nutrition information per serving (1/10 of recipe):
calories 283; total fat 9g; saturated fat 4g; cholesterol 55mg; sodium 181mg; total carbohydrate 43g; dietary fiber 3g; protein 7g
Source: Fleischmann's Yeast, a division of Burns Philp Food, Inc.
more Christmas Recipes