Spinach and Crab Dip
Yield: 4 servings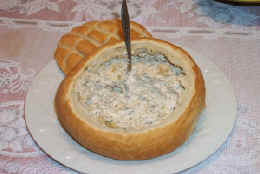 2 (10 oz.) packages of frozen, chopped spinach
1 cup sour cream
1 cup mayonnaise
1 Tbs. dried onion soup mix
4 ounces flaked crab meat or imitation crab meat
1 round sourdough bread loaf

Thaw and drain spinach dry. Stir together spinach with remaining ingredients. Cover and refrigerate for at least an hour. Cut out the center in a round sourdough loaf. Place mixture inside and serve with wedges of bread and crackers.
Shared by J. Chuck
Creamy Spinach Dip
1- 10 oz. pkg. frozen chopped spinach, thawed, well drained
1 cup Miracle Whip Salad Dressing or Miracle Whip Light
1 cup sour cream
1/2 cup chopped parsley
1/4 cup chopped chives
1 tsp. dill weed
1/2 tsp. lemon pepper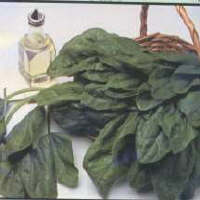 For the Bread Bowl, I buy a round Hawaiian Bread and cut out the middle.
Shared by G. Warmwind
Spinach Dip in Bread Bowl
1 cup mayonnaise
1 cup sour cream
1 medium onion, chopped
10 oz. frozen, chopped spinach, thawed and squeezed between paper towels
1 - 8-oz package Knorr vegetable soup mix
1 small can water chestnuts, chopped fine (optional.)
1 large round pumpernickel or rye bread - cut hole in top and scoop out insides. Save & use as dippers.
Mix all ingredients together and chill overnight or for several hours. Place dip in bread just before serving. A sprig of fresh dill looks pretty on top.
Shared by W. Stone