Beef Wellington
Yield: 1 Serving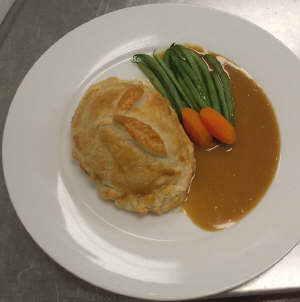 2 Tbsp Canola oil
Pinch Salt
Pinch Pepper
6oz Beef fillet
2 tsp Butter
2 tsp Shallots, diced
1/2 cup Mushrooms, button or brown finely chopped
1/4 cup White wine
1 oz Foie Gras (duck liver) optional
6 oz Puff pastry dough
1 Egg, beaten
1 tsp Butter
1 tsp Shallots
1/8 cup Madeira
1/3 cup Beef stock
2 tsp Butter
Green beans
Carrots
Sprinkle the beef with salt and pepper on both sides. Heat oil in pan and when hot add beef, sear the beef on both sides for about 2 minutes per side. Remove the beef and place on plate and set aside. Add the Madeira to the pan and let reduce slightly. Set aside.
Place 2 Tbsp of butter in a pan and heat, add shallots add sauté for 4 minutes. Then add the finely chopped mushrooms to the pan and toss to coat. Cook until mushrooms are tender. Add white wine and reduce till no more liquid is in the pan. Remove mushroom mixture and set aside in bowl.
Lay out a piece of the puff pastry dough and cut into a square that is big enough to completely wrap your meat and mushrooms like a package. Lay the piece bottom half of the dough and top with the foie gras (sprinkle with salt and pepper) then top that with the mushroom mixture. It should be like a little tower. Then beat an egg in a bowl and brush the egg wash onto the edges of the dough. Fold over the dough to cover the filling completely and seal it. You can create a nice design with the edges like you would on a piecrust or leave it plain. Then cut off excess dough and use to decorate the top. In the picture there are leaves on top. Place your completed Beef Wellington on a parchment lined or sprayed baking sheet and bake at 375ºF for about 20 minutes.
While in the oven, blanch the green beans and carrots in salted water till tender.
Make sauce by adding butter to pan, when hot add shallots and sauté for 5 minutes. Then add the Madeira reduction and beef stock and let reduce till thickened. Add butter and swirl continuously till the butter is mixed in, do this over medium heat.
Remove the Beef Wellington from the oven and place on plate, place the vegetables next to it and serve the sauce.