Onion Tart
A favorite for many Germans, it is known as Zwiebelkuchen in Germany.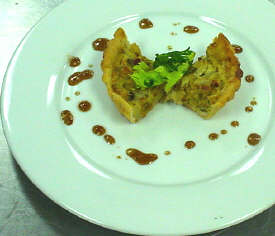 Dough:
2 3/4 cup All Purpose Flour
1 cup or 2 sticks Butter, cubed and cold
1/2 cup Cold Water
Pinch Salt
Filling:
1/2 lb Bacon diced (for vegetarian use just enough oil to coat onions)
4 Onions, sliced
1/2 tsp Caraway seeds
1/2 tsp Salt
1/2 tsp Pepper
2 Egg yolks
1 1/2 cups Sour cream
Put flour in a large bowl, add the cubed chunks of cold butter and mix together, then add the water slowly while mixing till the dough comes together, till it is soft but try not to overwork it. There may still be chunks of butter in the dough, which is good.
Wrap in plastic wrap and chill. Spray a tart pan or pie dish with cooking spray then line with the dough. Poke holes in the dough with a fork and chill.
Sauté diced bacon in a pan till crisp, remove and place on paper towel. In the left over bacon grease sauté the onions until they are caramelized to a light golden brown color. Do this over medium heat making sure to stir occasionally so onions do not burn. Add caraway seeds and salt and pepper. Add bacon to the onion mix and place inside the dough lined pan, bake at 400 F for 20 minutes or until dough is lightly golden.
In a bowl mix egg yolks and sour cream. Pour over the onion bacon mixture and bake again for 10 to 15 minutes, until sour cream mixture is set. Remove from oven and let cool.
Shown in the picture is a tartlet cut into fours, two slices plated and garnished with a balsamic vinegar reduction for an appetizer. Zwiebelkuchen can be served for any meal whether large or small. As a meal it is usually served with a salad.