Barazek (Sesame Cookies)
These crumbly cookies combine traditional Turkish flavors of sesame, honey, and pistachios. Serve with Turkish coffee or hot tea.

Yield: 2 Dozen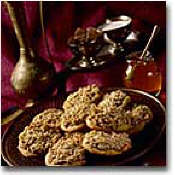 2 cups Sesame seeds
1/3 cup Honey
2 Eggs
3/4 cup Sugar
1 teaspoon Premium Ammonia Powder
1 3/4 cups Flour, sifted
2 cups Semolina Wheat Flour
1 dash Sea Salt
3 tablespoons Warm milk
1/2 cup White Pistachios
1 tablespoon Pure Ghee
Preheat oven to 375°F.
Mix sesame seeds with honey. In an electric mixer, cream eggs, ghee, and sugar together, until light and fluffy.
Sift the ammonia powder with the flour, semolina, and salt. Add to the egg mixture and blend thoroughly. Add milk gradually to form a dough.
Cut dough into small walnut-sized balls. Dip each ball into the pistachios, then flatten to form a 2-inch round cookie.
Place pistachio-covered side face down on a greased cookie sheet. Cover each with 1 Tablespoon of the sesame seed and honey mixture.
Bake for 15 minutes, or until golden.
Source: Ethnic Grocer - buy Turkish ingredients