Cream Cheese Swirl Brownies
Chase the winter blues away with these delicious reduced-fat brownies.
Yield: 16 servings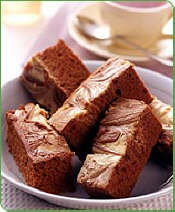 3/4 cup all-purpose flour
3/4 cup sugar
1/4 cup unsweetened cocoa
1/2 tsp baking powder
3 Tbsp canola oil
2 Tbsp water
2 large egg whites
2 oz light cream cheese, softened (about 3 1/2 tbsp)
2 Tbsp sugar
1/4 tsp vanilla extract
Preheat oven to 350º F. Coat an 8-inch square pan with cooking spray.
Combine flour, 3/4 cup of sugar, cocoa and baking powder in a medium-size bowl; mix well. Add canola oil, water and egg whites; mix just until dry ingredients are moistened. Spoon and spread batter evenly into prepared pan.
Combine cream cheese, remaining sugar and vanilla in a small bowl; blend well. Drop small spoonfuls of cream cheese mixture over brownie batter; swirl gently with a knife to create a decorative pattern.
Bake until toothpick inserted in center comes out clean, about 20 minutes. Allow to cool for 20 minutes before cutting into 16 bars.
Weight Watcher: 2 POINTS per serving
Copyright: Weight Watchers - send a Weight Watchers gift subscription!