George Washington Birthday Bread
Whimsical Tribute to the President Who 'Could Not Tell A Lie'
Strips of dough laced with vanilla and sandwiched around layers of cherry preserves. Ideal for office parties or collaboration with kids.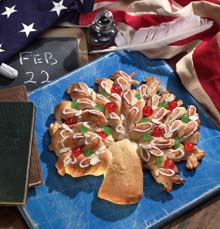 Yield: makes 1 tree - 12 servings
2-1/2 cups all-purpose flour
1/4 cup sugar
1 envelope (1/4 ounce) or 2 1/4 teaspoons FLEISCHMANN'S RapidRise Yeast
1/2 teaspoon salt
1/4 cup water
1/4 cup milk
2 tablespoons butter or margarine
1 large egg
1/2 teaspoon vanilla extract
1/2 cup cherry preserves
Egg Glaze (recipe below)
Almond Glaze (recipe below)
1/4 cup sliced almonds
Red and/or green glacé cherries, quartered
In a large bowl, combine 3/4 cup flour, sugar, undissolved yeast, and salt. Heat water, milk, and butter until very warm (120 to 130 F). Gradually add to dry ingredients. Beat 2 minutes at medium speed of electric mixer, scraping bowl occasionally. Add egg, vanilla, and 1 cup flour. Beat 2 minutes at high speed. Stir in enough remaining flour to make a soft dough. Knead on lightly floured surface until smooth and elastic, about 8 to 10 minutes. Cover and let rest 10 minutes.
Cut 1/4 portion from dough; shape into a trunk of a tree. Place on bottom center of a large baking sheet lined with parchment paper. Roll remaining dough to 12 x 12-inch square. Spread cherry preserves evenly over dough to within 1/2-inch of edges. Fold dough in half; do not seal ends.
Cut into 12 (1-inch) strips using a knife or a dough wheel, twist each strip 3 to 4 times. Attach folded ends of strips to the top of trunk, forming a semi-circle. Split unsealed ends of each twist with a knife. Cover; let rise in warm, draft-free place until doubled in size, about 45 minutes. Brush with Egg Glaze.
Bake at 350°F for 20 minutes or until done. Remove from sheet; cool on wire rack. Drizzle with Almond Glaze; decorate with red and/or green glacé cherries and sliced almonds.
Egg Glaze
In a small bowl, combine 1 egg white and 1 tablespoon water. Stir to blend well.
Almond Glaze
Combine 1/2 cup powdered sugar, sifted and 2 to 3 teaspoons milk. Add 1/2 teaspoon almond extract. Stir until smooth.
Make a Flag!


Nutrition Information
Per Serving: Serving size: slice (1/12 of recipe) Calories: 210 Total fat: 4g Saturated fat: 1.5g Cholesterol: 25mg Sodium: 115 mg Carbohydrates: 39g Dietary Fiber: 1g Protein: 4g saturated fat 1.5g; cholesterol 25mg; sodium 115mg; total carbohydrate 39g; dietary fiber 1g; protein 4g
Recipe source:
Fleischmann's Yeast, a division of Burns Philp Food, Inc.