Korean Barbecued Beef
Yield: 60 hors d'oeuvres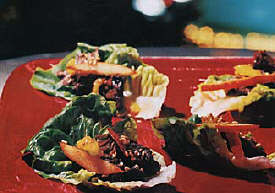 For marinade
1/2 cup soy sauce
1/4 cup rice vinegar (not seasoned)
1/3 cup chopped scallion
2 tablespoons sugar
2 tablespoons minced garlic
2 tablespoons minced peeled fresh ginger
1 tablespoon Asian sesame oil
1 teaspoons Asian chili sauce
1 3/4 lb skirt steak
2 small red apples such as Gala
1 firm-ripe mango, peeled and pitted
2 tablespoons fresh lime juice
1 teaspoon Asian chili sauce, or to taste
60 (3- to 4-inch-long) Bibb lettuce leaves
Toasted sesame seeds
Make marinade:
Stir together marinade ingredients and reserve one fourth of marinade for sauce.
Marinate steak, then broil:
Put steak and remaining three fourths of marinade in a glass dish, turning steak to coat, and marinate at room temperature, turning once, 30 minutes. While steak is marinating, cut apples and mango into 1- by 1/4-inch sticks. Toss together with juice and chili sauce and season with salt.
Preheat broiler.
Broil steak on rack of a broiler pan 2 to 3 inches from heat until slightly charred, 2 to 3 minutes on each side for medium meat. Let steak stand 5 minutes. Cut crosswise into 1/4-inch-thick slices, then halve slices crosswise. Toss beef in reserved marinade with salt and pepper to taste and divide among lettuce leaves. Top with fruit and sesame seeds.
Cooks' note:
Fruit mixture may be made 1 day ahead and chilled, covered.
Copyright Bon Appetit - send a Bon Appetit gift subscription