Shamrock Cookies
Yield: 1 to 2 dozen cookies.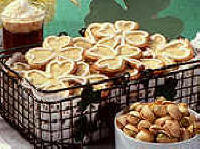 1 cup butter or margarine
1 cup sugar
1 egg
2 cups flour
1 teaspoon grated lime peel
1 cup natural California pistachios, chopped

Lime Icing
1/4 cup butter or margarine
2 1/2 cups sifted powdered sugar
2 tablespoons milk
1/2 teaspoon grated lime peel
Cream butter and sugar; beat in egg. Stir in flour and lime peel; mix in pistachios. Refrigerate dough 1 hour.
Roll dough 1/4 inch thick; cut shapes with shamrock-shaped cookie cutter.* Place on ungreased baking sheet. Bake at 375 degrees F., 8 to 10 minutes or until lightly browned; cool.
Using a pastry tip or a paper cone pipe icing to outline cookies.
Lime Icing:
Beat 1/4 cup butter or margarine with 2 1/2 cups sifted powdered sugar, 2 tablespoons milk and 1/2 teaspoon grated lime peel until smooth. If frosting is too stiff, beat in a few drops more milk; if too soft, beat in more powdered sugar. Makes about 1 cup.
Note: if desired, make up an additional half-batch of icing, color it green using green food color and pipe with fine tip inside white icing outline.
* If shamrock-shaped cookie cutter is not available, cut out shamrock pattern from a piece of heavy paper and cut cookie dough using pattern and sharp knife. Or cut dough with 2-2 1/2 inch round cookie cutter and pipe icing in shamrock shape on cookies after baking.
Source: California Pistachio Commission