Naan
A staple in India, this simple bread can be served as an appetizer with dips or along side a lavish Indian meal.
Yield: 6 servings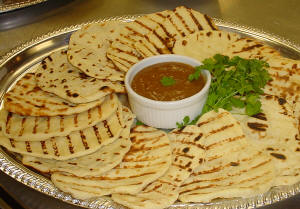 3 cups Flour
1/2 cup Milk
1 Egg, beaten
3/4 tsp Salt
2 tsp Sugar
1 tsp Baking powder
1/8 oz Active dry yeast
2 Tbsp Vegetable oil
4 Tbsp Yogurt, plain
1/4 tsp black onion seeds (optional)
Sift the flour into a bowl. Warm the milk slightly in a pot.
In another bowl combine the egg, salt, sugar, baking powder, yeast, oil, yogurt, and 5 tablespoons of the warm milk. Mix well and then add the flour.
Begin kneading and bringing the dough together, slowly add up to 6 tablespoons more of the milk, just enough till the dough is soft and combined. Knead the dough for ten minutes, form into a ball and place in a bowl, cover with plastic and let rise in a warm place for 2 to 3 hours.
To cook you can use a broiler or a grill.
Punch the dough down and knead it for about 1 minute and divide into 6 balls. Flatten and stretch out the dough to make teardrop shapes or circles about a 1/8 to 1/4 inch thick. Cover the discs with plastic and let sit for 10 minutes.
If broiling place on foil lined sheet pans that are lightly brushed with oil. Brush the Naan with water and sprinkle onion seeds (optional). Cook about 2 1/2 minutes on each side.
If grilling brush grill with a little bit of oil and grill each side to get marks about 4 to 5 minutes each side.
Serve with dips or with an Indian meal.