Sweet Rice Muffins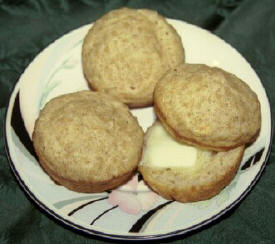 Yield: 12 muffins.
3/4 cup whole wheat flour
3/4 cup unbleached flour
1/4 cup brown sugar
1 tablespoon baking powder
1 egg
1 cup milk
2 tablespoons melted butter
1 cup cooked rice
Preheat oven to 425 F.
In a large bowl, blend whole wheat flour, unbleached flour, brown sugar, and baking powder.
In a small bowl, mix egg, milk, and melted butter, blending well.
Add liquid ingredients to dry ingredients and stir until just moistened. Stir in rice.
Spoon into generously buttered muffin cups. Bake for 20 minutes or until set in center. Immediately loosen edges of muffins with a small metal spatula.
Serve warm with butter.
Can also be baked in mini muffin pans, loaf pans or cake pans.