Traditional Lasagna
To cure the craving of lasagna like Mom used to make.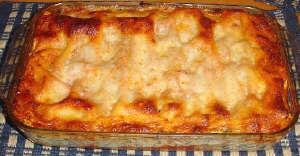 Yield: 6 to 8 servings
9 Lasagna noodles, cooked and drained (use the "oven ready" noodles to save time)
2 cups Ricotta cheese
1 Egg, beaten
1/2 cup Parsley, chopped
1/2 cup Parmesan cheese, grated
2 cups Mozzarella cheese, grated
3 cups Meat sauce*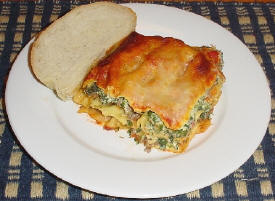 Meat sauce:*
1 lb Ground beef
1 Onion, large chopped
3 cloves Garlic, minced
1 bay leaf
2 tsp basil, dried
1 1/2 tsp oregano, dried
2 Tbsp Olive oil
3/4 cup Red wine
3 cans Crushed tomatoes (28 oz cans)
1 tsp Salt
1/2 tsp Pepper
*If you want a quick fix and do not have time to make a sauce use a store bought sauce and add some browned ground beef too it.
For sauce, heat oil in a large pan, when hot add the beef and cook for about 5 minutes. Add the onion, garlic, basil, and oregano and continue to cook until meat is well browned. Add the bay leaf, tomatoes, red wine, salt, and pepper and bring to a boil. Reduce the heat to medium low and simmer for 45 minutes. Taste and adjust for salt and pepper if needed.
For lasagna, in a bowl mix the ricotta cheese, beaten egg, parsley, and parmesan cheese together until well incorporated. In the bottom of a 9 x 13 inch baking dish, spread out 1/2 cup of sauce then place three lasagna noodles on top (if they do not overlap it is ok, they will spread out during baking). Then spread 1/2 of the ricotta mixture on top of the noodles and sprinkle a little mozzarella over it. Now spread about 3/4 cup meat sauce on top of that and place the next layer of noodles on top and repeat the ricotta and mozzarella layers. You should end with the last layer of noodles on top. Spread the rest of the sauce on top of the noodles and top with the remaining mozzarella cheese.
Bake uncovered at 375F for about 45 minutes until cheese is melted and bubbly. When finished let lasagna sit for 10 minutes. Cut and serve with a slice of French bread and enjoy.
lasagne lasanga