Southern-style oven fried Chicken
Yield: 4 servings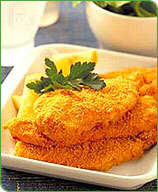 Weight Watchers theme: "You won't believe you're on a diet" recipes. This oven-fried chicken was a cinch for this category!
1/2 tsp all-purpose flour
1/4 tsp table salt
1/8 tsp cayenne pepper
3 oz buttermilk
3/4 cup corn flakes crumbs
1 pound boneless, skinless chicken breasts, four 4 oz pieces
Preheat oven to 365 F. Lightly coat an 8 X 8 X 2-inch baking dish with nonstick cooking spray; set aside.
Combine flour, salt and cayenne pepper together in a medium-size bowl. Place buttermilk and corn flakes crumbs in 2 separate shallow bowls.
Roll chicken breast halves in flour mixture and evenly coat each side. Next dip chicken into buttermilk and then corn flakes crumbs.
Place coated chicken breasts in prepared baking dish. Bake until chicken is tender and no longer pink, about 20 minutes (there is no need to flip the chicken during baking).
Weight Watchers: 1 breast per serving - 4 POINTS per serving
Copyright: Weight Watchers - Order a Weight Watchers subscription!