White-Chocolate Mousse Parfaits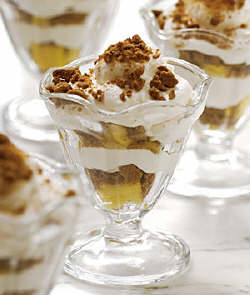 Yield: eight small parfaits (3 cups mousse)
4 oz. good-quality white chocolate, chopped
1-1/2 cups heavy cream
1/4 tsp. vanilla extract
Pinch salt
1 ripe mango, cut into small chunks
20 gingersnaps or chocolate wafers, crushed
Melt the white chocolate in a small, heatproof bowl over simmering water or in a microwave. (how to melt.... ). Stir until smooth. Set the chocolate aside and proceed immediately; the chocolate needs to be very warm for this speedy recipe to succeed.
Pour the cream into a medium bowl and add the vanilla and salt. Beat with an electric mixer on medium-high speed until the cream forms firm but not stiff peaks, about 2 to 3 min. (Don't go too far or the cream will curdle when the chocolate is beaten in.) Scrape the very warm white chocolate into the cream. Continue beating on medium-high speed until well blended and firm, about 30 seconds. The mousse should form a dollop when dropped from a spoon.
To serve, spoon the mousse into tall glasses, alternating with layers of the mango chunks and crushed cookies.
Tips
Be careful when you melt the white chocolate -- it burns easily, so use very low heat. more info!
This mousse can also be served alongside a fresh fruit compote.
Other combinations:
fresh raspberries or quartered strawberries with crushed chocolate cookies; reconstituted dried apricots with gingersnaps; blueberries with vanilla wafers.
Copyright: Fine Cooking - order a Fine Cooking magazine subscription!