Chocolate Rice Pudding Parfait with Gianduja Whipped Cream & Caramelized Rice Krispies
The rice pudding can be made up to three days ahead, the whipped cream up to two days ahead. The Rice Krispies will keep for up to a month in an airtight container. Gianduja (pronounced john-doo-yah) is chocolate that's blended with ground hazelnuts.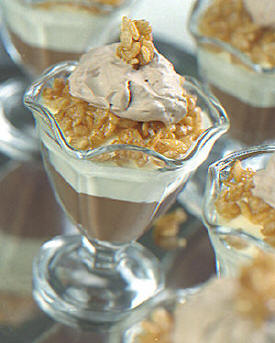 Yield: 8 servings
For the chocolate rice pudding:
3 cups whole milk
2-1/2 Tbs. sugar
Pinch salt
1/3 cup raw Arborio rice
5 oz. good-quality bittersweet chocolate (I like Valrhona guanaja), finely chopped
4 Tbs. unsalted butter, cut into small pieces
1/2 cup golden raisins, simmered in water until plump and then drained (optional)
1 recipe Cream Cheese Mousse
For the caramelized Rice Krispies:
4 Tbs. superfine sugar
2 Tbs. water
2 cups Rice Krispies
For the gianduja whipped cream:
8 oz. heavy cream
3 oz. gianduja chocolate (or good-quality bittersweet chocolate), chopped
To make the pudding
In a saucepan, combine the milk, sugar, salt, and rice. Bring to a boil over medium-high heat. Cook at a vigorous simmer, stirring occasionally, until the rice is tender but not breaking apart and the pudding is still a little soupy but thicker than cream, about 15 min. Stir in the chopped chocolate and butter until well combined; the mixture will thicken. Mix in the raisins, if using. Divide among the eight glasses you're using and chill until needed.
Meanwhile, make the cream cheese mousse. Spoon equal amounts of the mousse over the pudding in the glasses. Chill until needed, at least 30 min.
To make the caramelized Rice Krispies
In a 3-qt. or larger pot, bring the sugar and water to a boil over medium-high heat. Boil for 1 min. Sprinkle the Rice Krispies over the syrup, stirring gently to coat (the mixture will clump). Keep stirring gently over medium high (the rice will separate) until the rice is golden brown (the pan may smoke a bit), 4 to 5 min. Remove from the heat and immediately dump the caramelized Rice Krispies onto a baking sheet to cool. When ready to use, break up clumps with your hands.
To make the gianduja whipped cream
In a saucepan, bring the cream to a boil. Add the chopped chocolate and whisk vigorously until melted. Transfer to a stainless bowl. Refrigerate, covered, until the cream is well chilled, about 3 hours. Whisk the cream until it forms soft peaks. Chill until needed.
To assemble the parfait
Remove the glasses with the pudding and mousse from the refrigerator. Sprinkle on a generous layer of caramelized Rice Krispies and then a spoonful of the gianduja whipped cream. Finish with another sprinkling of Rice Krispies. Serve right away.
Copyright: Pierre Herme Fine Cooking - order a Fine Cooking magazine subscription!