Egg Casserole Bread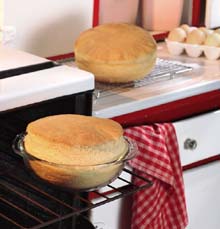 Fluffy Texture and Rich Eggy Taste.
Yield: 2 Casserole-shaped loaves.
6 cups all-purpose flour
3 tablespoons sugar
2 envelopes (1/2 ounce or 4 1/2 tsp) FLEISCHMANN'S RapidRise Yeast
2 teaspoons salt
2 cups water
2 tablespoons butter or margarine
3 eggs, large
In a large bowl, combine 2 cups flour, sugar, undissolved yeast, and salt. Heat water and butter until very warm (120 to 130 F). Gradually add to dry ingredients. Beat 2 minutes at medium speed of electric mixer, scraping bowl occasionally. Add eggs and 1/2 cup flour; beat 2 minutes at high speed. Stir in remaining flour to make a stiff batter. Turn into 2 greased 1-1/2 quart casseroles. Cover; let rise in warm, draft free place until double in size, about 40 minutes.
Bake at 375 F for 30 to 35 minutes or until done. Remove from casseroles; cool on wire rack.
Nutrition information per serving: Serving size: slice (1/24 of recipe) calories 140 total fat 2 g saturated fat 1 g cholesterol 30 mg sodium 200 mg total carbohydrate 26 g dietary fiber <1 g protein 4 g
Source: Fleischmann's Yeast, a division of Burns Philp Food, Inc.